Vladimír Birgus
Nový Jičín, Žerotín Castle, September 6, 2012 – February 28, 2013
The photograph of running dogs against an evening landscape suggests a shift in the work of Vladimír Birgus, a photographer, a curator of numerous exhibitions at home and abroad, an experienced historian of photography and the head of the Institute of Creative Photography at Silesian University, Opava. Although in Birgus's new works we still encounter people in the midst of large agglomerations as we had in his earlier photographs, we encounter in addition static details in which human beings are present only indirectly, and also photographs from the Fauna series. The shift in pictorial language is clear. 'Does it reflect', we may legitimately ask, 'the photographer's richer experience of life?'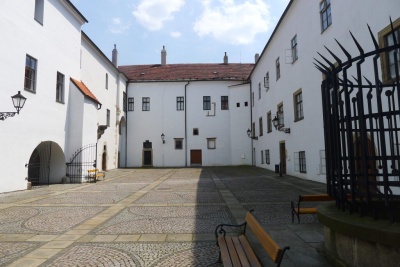 Žerotín Castle in Nový Jičín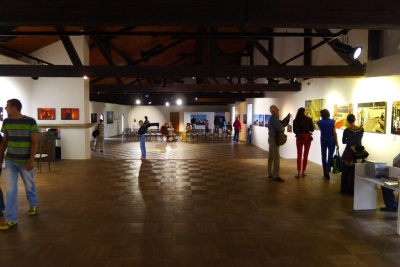 Exhibition in Žerotin Castle in Nový Jičín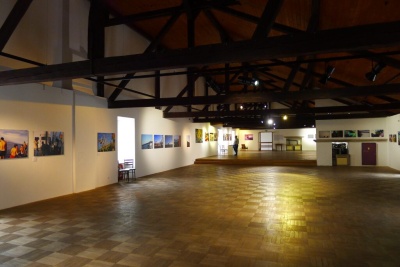 Exhibition, Žerotín Castle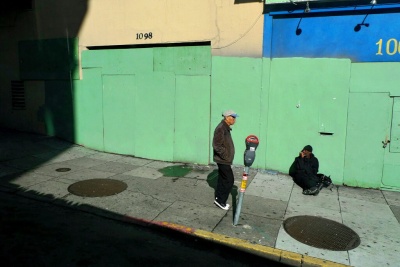 New York, 2011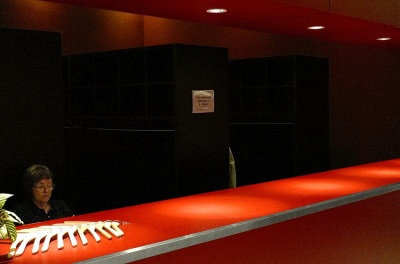 Budapest , 2009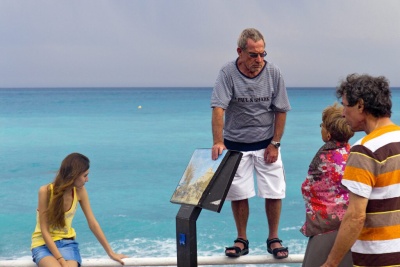 Nice, 2012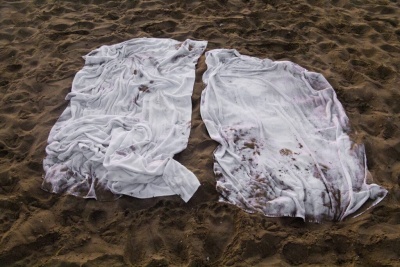 Benátky - Venice, 2011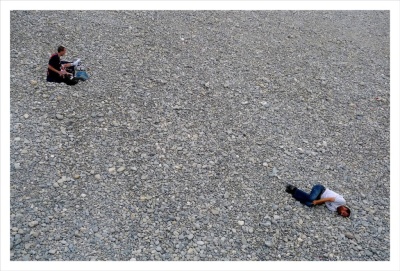 Nice, 2009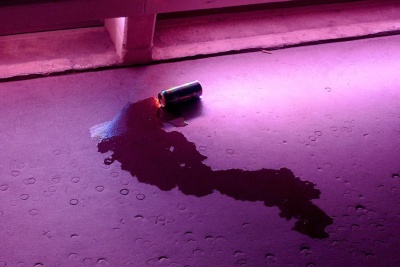 Cannes, 2010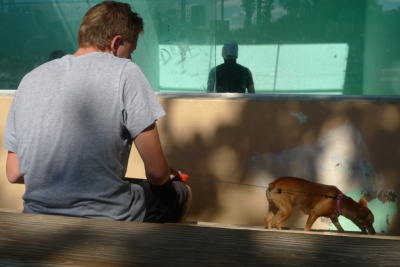 Miami Beach 2009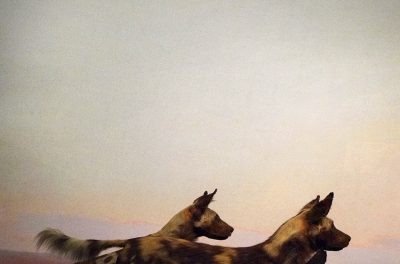 From Fauna series, Bonn, 2009
The photograph I mentioned at the beginning, a full shot of running dogs (actually mounted animals photographed in the illusory landscape of a giant diorama at a museum of natural history), is considerably different from the open series Something Unspeakable, which Birgus began in the 1970s. As with many of the other exhibited works, it exudes more calm than the previous ones. Like the photos from the new worlds that have arisen from the merging of several picture planes, and the photographs of mounted animals beside which run perhaps other mounted exhibits (though possibly they too are alive), and the green-brown space in which a lonely dog is located next to figures separated from each other by a wall, the illusory scene encourages the viewer to contemplate what around us is still real and the mystery that exists in our own world, for many people invisible and unknown.
Although Birgus's early photographs also often present juxtapositions of the world of people and the world of animals, we are forced to concentrate more in the Fauna series. Either we will precisely decipher the content of the pictures of worlds seen by the photographer or we will understand them in our own way, since the photos provide us with a good deal of room for interpretation. Birgus now likes to employ visual sophistication even more than before. If we were to compare Birgus's current exhibition with his previous ones (for example, the large retrospective at the National Cultural Centre, Bratislava, during the Month of Photography, 2009) we would find only a few similar photos. Amongst them there would be, for example, the depressing photograph of a forlorn salesgirl in a Vienna supermarket, the photo of a naked man on a busy Barcelona street, who is cut off the surrounding crowd, or the ghostly picture of swimmers in the blue tangle of a Sydney swimming pool with a giant ship in the background. The other photographs are among his most recent. The selection for this exhibition includes details of various interiors and exteriors, whose clever compositions and colour schemes intensify the pictorial symbolism as well as the uncertainty about whether we are looking at a depiction of the real world or an artificial one: the fragment of a living-room with a glowing window, a discarded tin can covered with the unreal colours of the concrete pavement, the joined hands of figures in a wooden sculpture group. Similar melancholy and surreality also appear in many of the juxtapositions of people and environments or various co-existing stories exposed in split seconds behind the scenes of our present time. Feelings from places spill over into colours, and in ingeniously depicted scenes we sense the subconscious inspiration provided by paintings of Edward Hopper and Eric Fischl. Birgus's photographs at first glance tell of miniature events taking place in the quaintest of places on our planet, but upon closer examination they tell mainly of today's globalized society, which is in a permanent hurry, about loneliness in the crowd, about the contrasts between dream and reality, about what is not explicitly expressed but is only intuited with difficulty, that is, about our inner state, which we carry in our souls in various degrees of tension.
Whereas Birgus used to employ the penetratingly dominant reds and yellows found in the urban environments in which we encounter solitary individuals in the midst of the crowd, now it is the 'muting' of the actors of the existing stories, which strikes us. In the past, a more closed action opened onto broader pictorial planes, and the atmosphere of light intensified the overall composition. In some cases we could suspect the photographer of manipulating the image, which is so easy to achieve these days. The term 'sophistication of the depicted action' must now be said to be equivalent to the term 'unmanipulated reality'.
Václav Podestát
Vladimír Birgus (born 1954), photographer, cuurator, teacher and historian of photography.
1978 – 2005 was a teacher of the Department of Photography, Film and TV Fakulty of the Academy of Performing Arts (FAMU) in Prague (since 1999 Professor). Since 1990 is the Head of the Institute of Creative Photography, Silesian University in Opava, Czech Republic. He is the author and co-author of 30 books, including Tschechoslowakische Fotografie der Gegenwart (Cologne and Heidelberg 1990), Czech Photographic Avant-Garde 1918-1948 (Prague and Stuttgart 1999, Cambridge, Mass. and London 2002), Photographer František Drtikol (Prague, 2000), Jaroslav Rössler – Czech Avant-Garde Photographer (Cambridge. Mass. and London 2003), Eugen Wiškovský (Prague 2006), Czech Photography of the 20th Century (Bonn, 2009, and Prague, 2010), Jindřich Marco (Prague 2011), Drtikol (Ostfildern and Prague, 2012) and Dita Pepe: Selfportraits (Prague 2012). His photographs have been exhibited in over 60 one-person exhibitions. He has curated and co-curated number of exhibitions in many museums and galleries in Europe and the USA including Czechoslovak Photography Today (Cologne, 1990 and 9 other venues in Europe and the USA), Bitter Years. Europe 1939 – 1947 through the Eyes of Czech Photographers (Prague, Edinburgh, London, Berlin and Skopelos, 1995-1996), Czech Photography of the 1990s (Prague, Berlin, Lisbon, Chicago, Bratislava and other venues, 1996-1998, with Miroslav Vojtěchovský), Modern Beauty – Czech Photographic Avant-Garde, 1918-1948 (Barcelona, Paris, Lausanne, Prague and Munich, 1998-1999), The Nude in Czech Photography (Prague, Olomouc, Moscow, Paris, Aachen, Poznań, Wroclaw, Bratislava, Athens, Warsaw, 2000-2009, with Jan Mlčoch), Czech Photography of the 20th Century (Prague, 2005 and Bonn 2009, with Jan Mlčoch), hlodal Viros: Identities of Young Czech Women Photographers (Prague, Bratislava, Lyon, Budapest and Warsaw, 2007-2009) and Once Upon a Time in the East (Prague, 2009, with Tomáš Pospěch).
Website: www.birgus.com.
Solo exhibitions (selection): Galerie pod podloubím, Olomouc, 1971 – Galerie mladých, Brno, 1976 - BWA, Gorzów Wielkopolski, 1979 - Malá galerie Československého spisovatele, Praha, 1980 – Fotografijos galerija, Kaunas, 1981 – Fotochema, Praha, 1984 – Canon Photo Gallery, Amsterdam, 1985 – Kellergalerie, München 1986 – Stara Galeria ZPAF, Warszawa, 1988 – Museum für Photographie, Braunschweig, 1988 - Galerie Mathurin, Tours, 1990 – Fotogalerie im Haus Böhl, Eisenach, 1991 – Prague House of Photography, Praha, 1997 – Dům umění města Brna, Brno, 1997 – Slezské zemské muzeum, Opava, 1997 – Galerie Caesar, Olomouc, 1998 – Centrum Kultury "Zamek", Poznań, 2001 – Galerie Oskara Kokoschky / Prague House of Photography, Praha, 2003 – Tschechisches Zentrum, Berlin, 2003 – BWA, Wrocław, 2003 – Galerie Kolo, Kiev, 2003 (Month of Photography, Kiev) - The Museum of Contemporary History of Russia, Moscow, 2004 (Fotobiennale Moscow)– Prospektos fotografijos galerija, Vilnius, 2004 – Galeria Camelot, Krakow, 2004 (Month of Photography Cracow) – Centre culturel tchéque, Paris, 2004 – Východočeská galerie, Pardubice, 2004 - Tschechisches Zentrum, Wien, 2006 (Month of Photography Vienna) - Galerie Badrov, Zagreb, 2007 - Leica Gallery New York (s Jindřichem Marcem a Jindřichem Štreitem / with Jindřich Marco and Jindřich Štreit), 2009 – Galerie V8, Köln, 2009 – Leica Gallery Prague, Praha, 2009 – Stara Galeria ZPAF, Warszawa, 2009 (Warsaw Festival od Art Photography) – Dom umenia, Bratislava, 2009 (Month of Photography Bratislava) – Galerie Opera, Ostrava, 2010 – Malá galerie spořitelny, Kladno, 2011 - Centrum Zamenhofa, Bialystok, 2011 – Kauno Fotografijos Galerija, Kaunas, 2011 – Łodzki Dom Kultury, Łódź (International Festival of Photography Łódź) – Muzeum Novojičínska, Nový Jičín, 2012 – Tschechisches Zentrum + Bank Austria Headquarter, Wien, 2012 (Month of Photography Vienna - s Jindřichem Marcem a Jindřichem Štreitem / with Jindřich Marco and Jindřich Štreit)..

Representation in public collections (selection): Uměleckoprůmyslové museum, Praha – Galerie hlavního města Prahy, Praha - Moravská galerie, Brno- Muzeum umění, Olomouc - Východočeská galerie, Pardubice - Slezské zemské muzeum, Opava - Muzeum umění a designu, Benešov u Prahy - Galerie výtvarného umění, Hodonín - Národní muzeum fotografie, Jindřichův Hradec - Státní ústřední archiv – Sbírka Svazu českých fotografie, Praha - Museum Ludwig, Köln- Maison Européenne de la Photographie, Paris- Bibliothéque National, Paris - Museet for Fotokunst, Odense – Archive of Modern Conflicts, London - Lietuvos fotografu sajunga, Vilnius - Fotografijos muziejus, Šiauliai - Museum of Fine Arts, Houston - International Center of Photography, New York – San Francisco Museum of Modern Art, San Francisco - Yokohama Museum of Art, Yokohama -Tokyo Metropolitan Museum of Photography, Tokyo.
Monographs: Vladimír Birgus: Cosi nevyslovitelného / Something Unspeakable. Text Tomáš Pospěch. KANT, Prague 2003. – Vladimír Birgus. Text Elźbieta Lubowicz. KANT, Prague 2004.
------------------------------------------------------------------------